Villa Layout
Spread across three levels, Villa Islandar comprises four bedrooms – one on the upper floor, two at garden level, and one by the riverside, complete with a spacious sundeck. Also on the top level is a living room open on two sides and with a front-facing balcony. As well as two guest bedrooms, a formal dining room and a kitchen make up the indoor space at ground level, while outside, the free-form swimming pool with its curved infinity edge overlooks the river below and is bordered by an ironwood sun deck and alfresco dining area.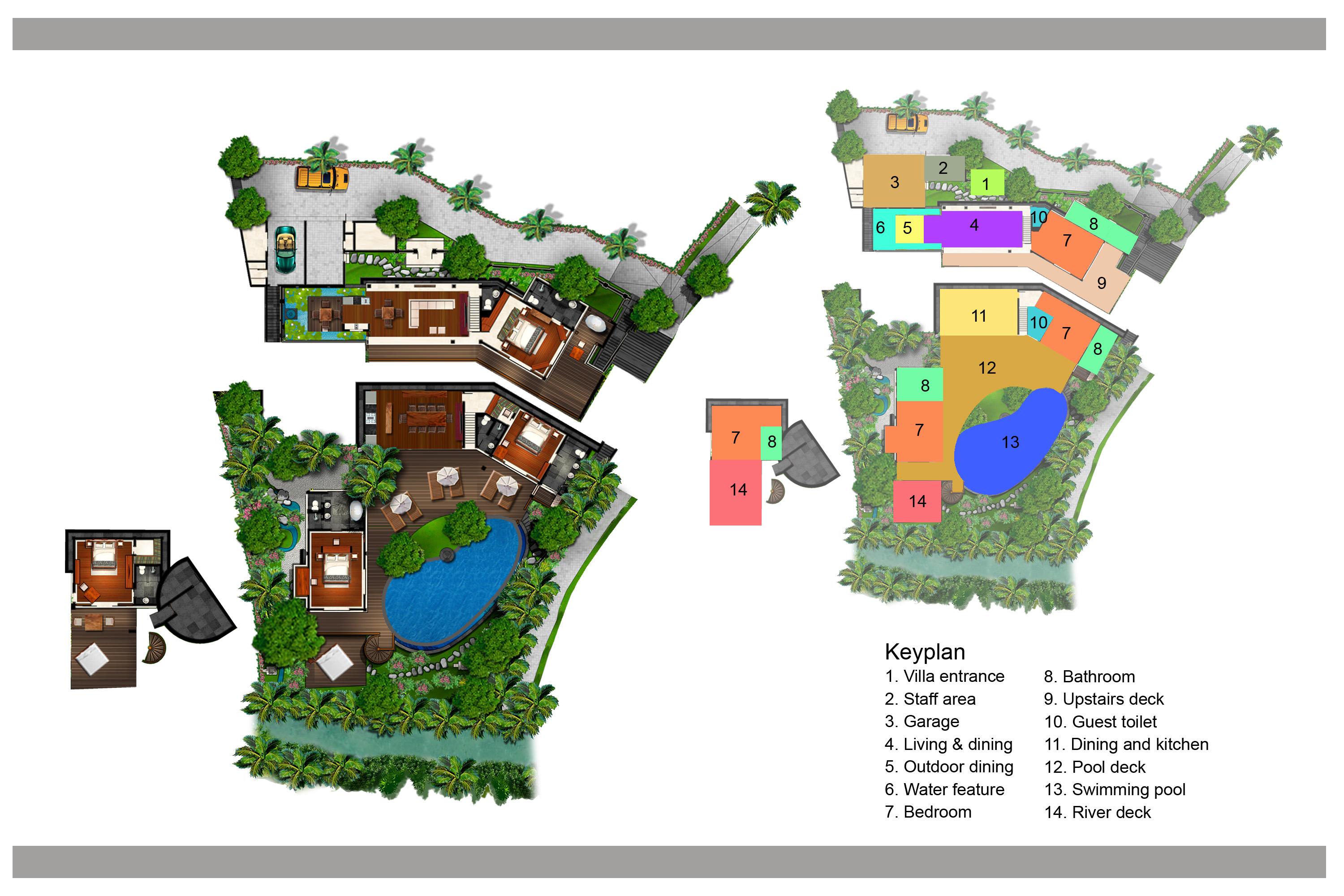 Download in high resolution
Bedrooms
Master
Presiding over the beautiful surroundings from the top floor, Villa Iskandar's master bedroom is furnished with a king-size bed and decorated with Chinese artwork and antiques under a high-pitched ceiling.  This splendid room has a glamorous ensuite bathroom and its own private balcony-deck furnished with an intimate dining table as well as a river-rock bathtub under the stars.
Guest bedroom one
Sitting adjacent to the dining room, this graceful bedroom opens directly out to the pool deck with views across to the jungle and riverbank beyond.  It is furnished with Chinese art and antiques as well as a king-size bed atop hardwood floors, while the ensuite bathroom is distinguished by a walk-in shower from which guests can step onto a balcony with built-in seating.
Guest bedroom two
Resting at the very front of the property, this river-view room oozes sophistication and taste with dark hardwood floors, Chinese antique furnishings, a steeply pitched ceiling and a glamorous bathroom fitted with an oversized black bathtub for two.   Sliding glass doors to the front and side of the king-sized bed lead to the pool and to a viewing deck above the river, complete with a dining table for two.
Riverside studio room
Villa Iskandar's riverside studio bedroom is accessed via a spiral staircase from the pool deck.  The views from this room's king-sized bed are of pure, raw nature.  The ensuite bathroom is fitted with a walk-in shower, while a precious feature is the deck right above the river with a double daybed looking across to the tall trees and jungle on the opposite bank.
Living Areas
Iskandar's open-sided living room is on the villa's uppermost floor, which makes it perfect for receptions, heralded by a fretwork Chinese-style screen and a Balinese gong. From the balcony at the front guests can survey the scene of the swimming pool and the sparkling river beyond. Adjacent to the living room is a pergola dripping with white-flowering thunbergia and surrounded on three sides by a fishpond with a bubbling urn as its centerpiece. Here, a small dining table and four chairs rests upon a wooden deck, which appears to float on a moat. A comfy sofa scattered with Chinese silk cushions, makes this a delightful space for watching movies on the 48-inch satellite channel TV and DVD player. A guest washroom is positioned to one side.
Villa Iskandar's large dining room, furnished with a table for ten and decorated with elegant Chinese artwork and artefacts, offers the choice of a formal, air-conditioned dining experience (perfect for entertaining) or a more casual, open-air effect when the glass doors are folded open to the pool deck and the jungle view.
The ironwood pool deck is built around the curved contours of the 15-metre, infinity-edge swimming pool that looks out over the river valley. This magnificent outdoor area is furnished with sun loungers and an alfresco dining table for eight, and shaded by frangipani trees and tall fan palms, while a firebowl at the edge of the pool creates a romantic ambiance at night.
A spiral staircase winds down to a riverside deck, open to the sky and situated next to the studio bedroom. This magical spot is the perfect place to practice yoga or meditate to the murmur of the river.